January 17, 2013
It's been quite awhile since I posted anything about the progress of our house transformation. I was very gung-ho when we moved in to get it done, but life has been crazy and projects have been abandoned. The last time I shared pictures was just a week after moving in and there was such a big difference already! But sadly, not too much has changed since then. My hope is that if I put all my plans out there on the blog, I might be more apt to hold myself to doing something about them. So, without further ado, my 2013 DIY list.
I did finish the tile floors in the kitchen and breakfast room and even got them done in the laundry room! I also got the bookcases painted, put the doors back on with new hardware, and started painting the fireplace. The TV is mounted, too, but none of it is cleaned up and nice looking yet. The fireplace needs another coat of paint and the bookshelves need to be organized and decorated.
Before: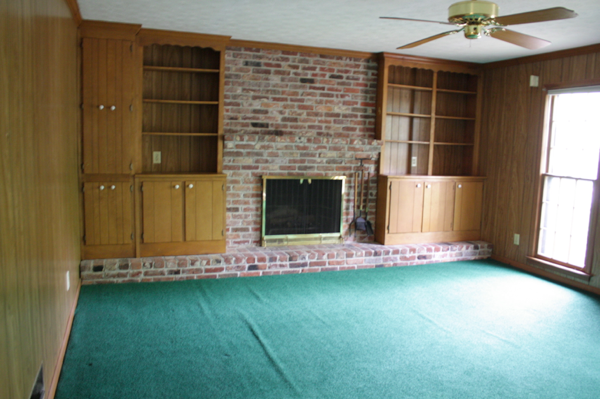 1 week after moving in: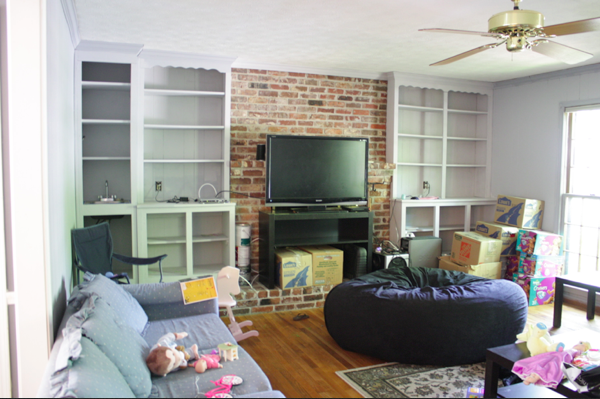 Today (the rest of the room isn't picture worthy, not that this corner is, either, but you get the idea):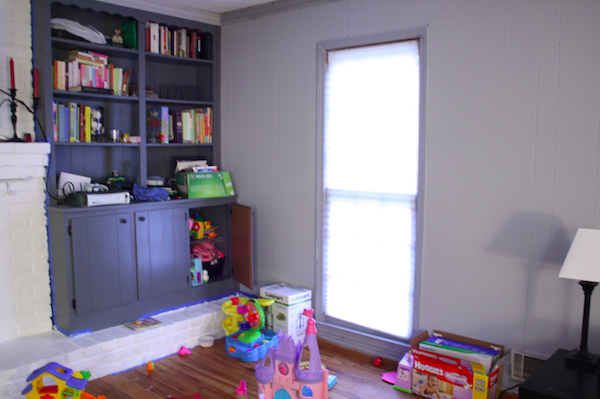 I also need to paint all the trim in the room still. The windows and molding have been primed but will soon become a beautiful white…and I can't wait! I bought the fabric to make curtains months and months ago and we've been staring at it wound in the corner since then. The curtains will be my reward for the rest of the painting.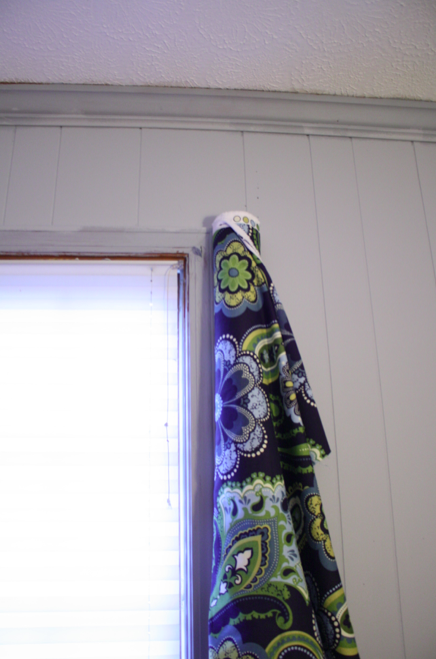 Not all areas are still a disaster, though! I've been working in the dining room. It's far from being finished, but it's looking so much better! I hung one set of curtains and got a mirror on the wall. Hey, it's progress and anything counts! But I do still need to hem the curtains and I have big plans to paint them. Stay tuned for that, it's going to be dramatic!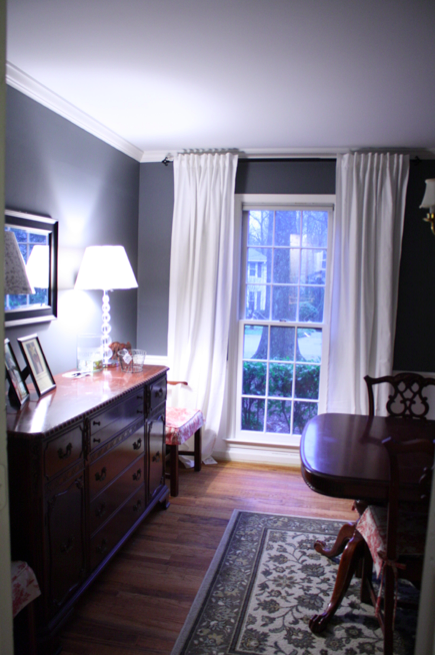 But, the other half of the room leaves a lot to be desired! I didn't get the other set of curtains up because the battery died on my drill so I stopped to charge it and just haven't gotten back in there. I need some great art for this huge blank wall and I'm thinking something that goes with my dramatic curtain color.
Before: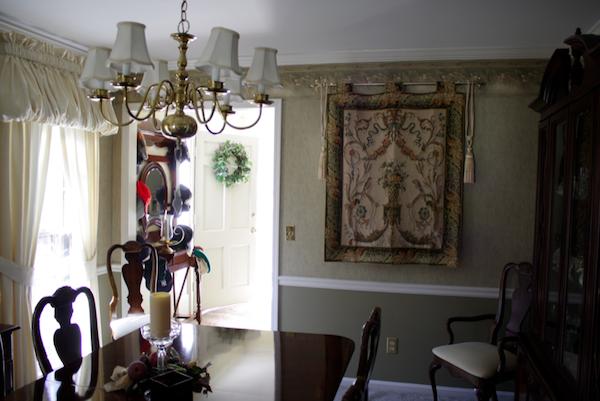 Currently: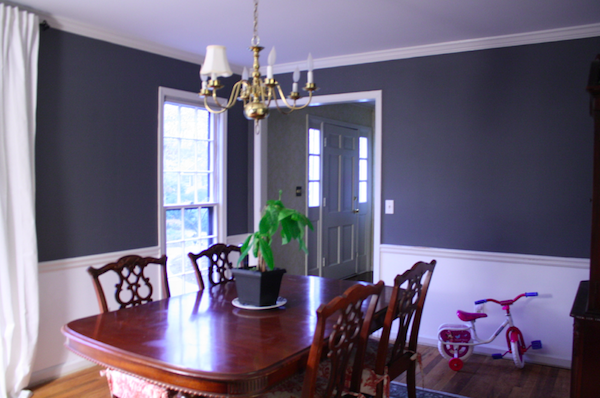 It's amazing what an enormous difference just hanging a rod and some curtains can make!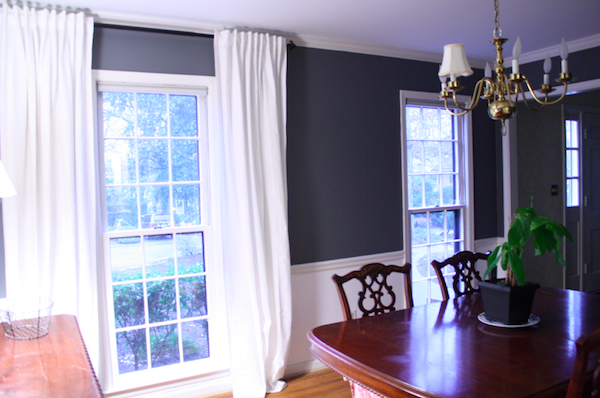 And what this room looked like before: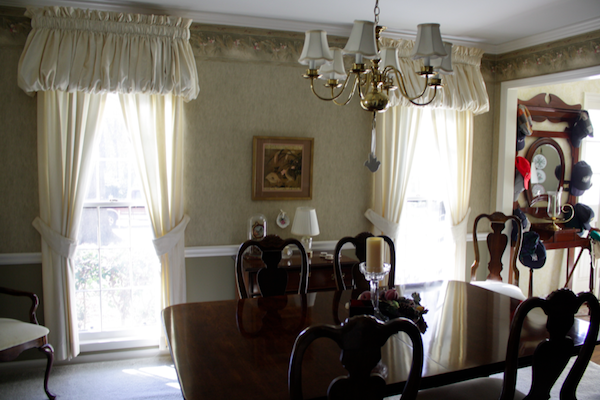 Then there's the pesky chandelier. Brass, yuck. And I stole the shades for the light in the breakfast room since we mainly use that table and they had dark hunter green shades on it. I love love love the medallion but haven't decided what to do with it yet. I'm going to try to paint the chandelier before giving up and replacing it entirely.
I also want to paint the chandelier in the breakfast room, but I'm not sure about the ceramic parts on it. And though the shades are better, they're still not great!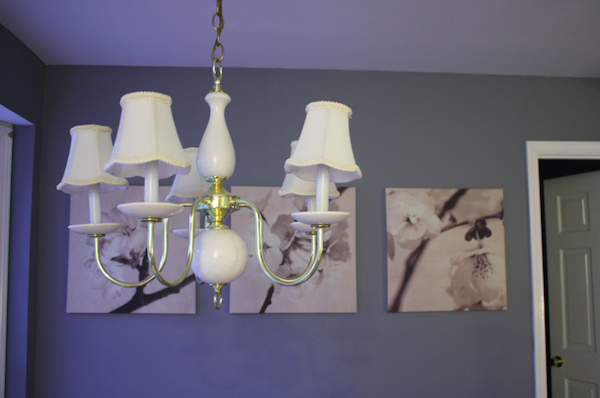 Our house is totally full of painting projects. One of the most immediate is Chloe's room. We started painting it before we moved in and lost daylight and had to stop. Since then, there just hasn't been a good time to go back in there! I can't paint while she's sleeping, there's not much time for it to dry before she needs to sleep again, and I can't paint with all of them up! So poor Chloe's lived with these sad walls for 9 months (it's going from brown to blue).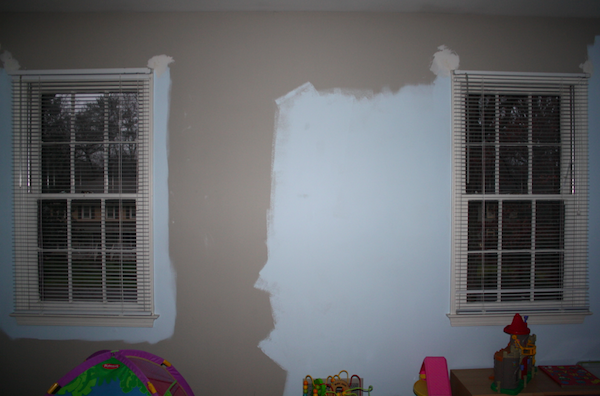 It doesn't stop her from playing in there, though!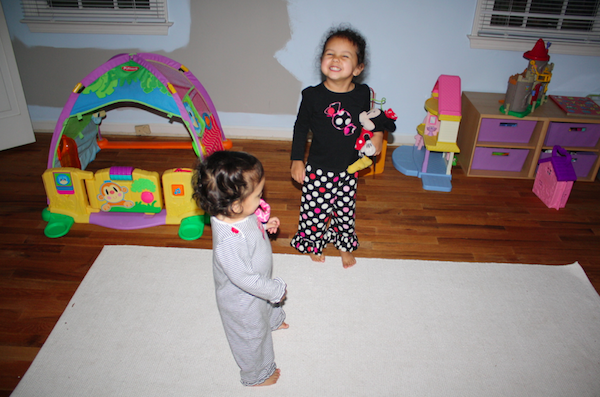 The next project to be tackled is quarter round molding. The entire house, including the kitchen, was carpeted when we moved in so the molding everywhere looks like this. My Dad is going to come up one weekend and help me get as much of it down as possible and I can't wait! It'll be the kick I need to paint the rest of the trim in the rooms.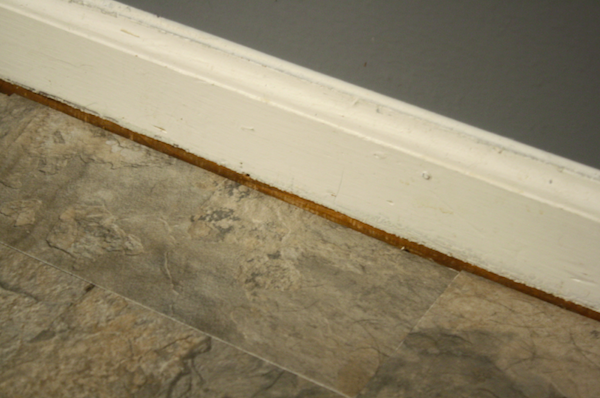 Did you suffer through all that? If you made it this far, there's a reward in it for you! This post isn't just about my horrific house, but it's a giveaway for one of you lucky readers! Up for grabs is a RYOBI ONE+ combo kit, supplied by The Home Depot!
The RYOBI ONE+ system features lithium Ion batteries that produce a consistent charge throughout the life of the battery, can be charged many more times than other batteries and are not damaged by leaving the charger on too long. They feature fade free power for up to 35% better performance. Charge with lithium ion batteries last four times longer than traditional tool batteries.
RYOBI Lithium Ion batteries are 45% lighter in weight, allowing for smaller, more powerful outdoor and power tools. I need to get my hands on some Lithium Ion battery operated tools for my projects. It's so hard to hold that drill over my head and goodness knows I've got more than my fair share of curtain rods left to hang! Plus the battery life is amazing, so it won't die on me in the middle of a project and require coming back to finish.
Sound like something you want to win? CLICK HERE TO GET THE DETAILS.