May 16, 2013
It's amazing how things sort of cosmically come together sometimes. A few weeks ago I was contacted by a woman organizing a Superhero 5K to raise awareness of bullying its long-term effects. She was looking for donations for prizes and had found my superhero masks and asked if I'd donate a set. I was so flattered and eager to help with anything she needed. I then discovered she was organizing the run in my city and had no idea where I lived! So I promptly registered The Hubs and I for the run and asked her if I could donate more. She happily accepted my offer.
It just so happens that the day before, a friend of mine shared a story about a paper-thin, washed-one-too-many-times, beloved Spiderman costume her son owns and how it caused a wardrobe malfunction at the least opportune time–with missionaries on her doorstep! It got me thinking about how I wished there were more options for boys and costumes of their heroes. There are all sorts of dresses you can make to look like Princesses or other girl characters, but boys are left with one-piece, horribly-produced, overpriced Halloween costumes that aren't meant for the washing machine or daily wear.
So between the two, I was inspired. I've seen the hero shirts that have capes that velcro on them and they're just not my style. Velcro quickly collects junk in it and loses it's ability to stick to itself (yet manages to stick to other laundry in the washer), and it doesn't stay on very well, no matter how new the velcro. It's just not my favorite medium. So I decided I'd make an easy way to put the cape IN the shirt!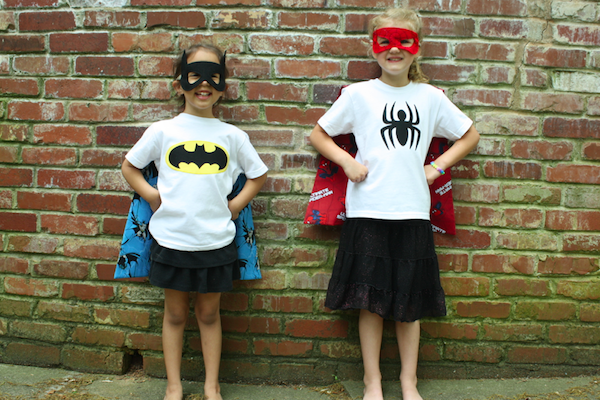 Why a cape? Well, because I firmly believe that everyone needs a cape.