Growing up, my Mom cooked dinner every night. My role in dinner preparation was chopping, table setting, and dish duty. But somewhere along the way I must have paid attention to the actual cooking part. I found in college that cooking came easily to me, and I frequently fed a table full of friends. My sister caught the bug, too, and recipes shared among the three of us often consist entirely of a list of ingredients and vague instructions.
One of my favorite things I learned to make from my Mom is calzone. I used to cherish calzone night. I had my own tiny pizza filled with my favorite toppings. This whole heap of cheesy goodness to myself with no chance of hungry teenage brothers stealing the last piece before I could get to it. I coveted my calzones and as an adult, make them far too frequently! I learned the easy way to make them from my Mom and stocked up on ready-made pizza crust from the refrigerated section at the grocery store.
But Sofie's strong desire to help me in the kitchen has led to more creative meals. Every night as I start getting out ingredients to prepare our meal, she runs to pull out her step stool from beside the fridge. I LOVE when she helps me. 2 year olds are surprisingly helpful in the kitchen. She moves chopped items to the proper cooking vessel, measures out dry ingredients, and is an excellent stirrer. I think it's wonderful that she's interested and do everything I can to keep her involved. I don't know if it's her sheer curiosity, or if she shares a love of cooking with her namesake–her Great-Grandmother Sofia–but she keeps coming back for more!
Tonight she helped me make calzone's from scratch. We've perfected a homemade whole wheat crust that's to die for!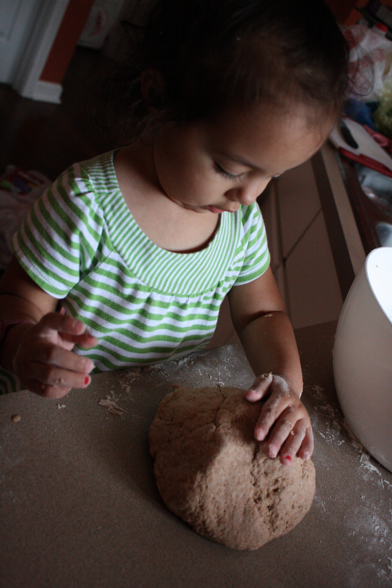 And since it makes enough crust for 2 large pizza's, I can make enough calzones to fill the pizza-void in my belly for another week. Looking at these makes my mouth water–and I've got more in the fridge for tomorrow!
Hungry yet? You should be!
**Okay ladies, here's the recipe!
This is what I use for the dough. https://allrecipes.com/Recipe/Amazing-Whole-Wheat-Pizza-Crust/Detail.aspx
I make a few changes to it, though. I only use wheat flour. I don't even know how much because I don't measure. I just dump flour in a little at a time until it reaches the right consistency. I also add garlic powder and Italian seasonings to my dough. No measurements, I just eyeball it.
Once it's raised and ready to go, I roll it out on the counter as big as I can get it. I don't use cutting boards or cookie sheets, I roll it directly on a clean counter. You then want to cut your dough into pieces. How many you cut and how you do it is completely dependent on your personal preference. I generally make about 6 calzones from this recipe. When you cut them you want a rectangular shape. I usually do about twice as long as they are wide.
As for what you put in it–that's totally a personal preference. My Mom used to make them specific for each of us. I generally make all of ours the same. I use pepperoni, ham, and mozzarella cheese. At times I use up whatever veggies we have in the fridge and usually always add onion and bell pepper. But you can put olives, mushrooms, basically whatever you like to eat on your pizza. Pile all your toppings on each other at one end of the dough piece. Then take the other end and fold it over your toppings, folding up the edges to seal it all in the dough. Transfer the calzones to a greased cookie sheet and bake according to the dough instructions (generally 400 degrees for 15-20 minutes) or until they're golden brown.
While they're baking, make the sauce. You can use regular jarred marinara if you want, but I never buy pre-made sauce. It's much cheaper to make it yourself and takes just a second to make. In a sauce pan, combine tomato sauce, garlic, Italian seasonings (either the pre-mixed Italian seasonings or your own mix. I use oregano, basil, thyme, and sage.), a dash of sugar, and crushed red pepper flakes. I'm not a huge fan of the red pepper and it's too hot for Sofie, so I add it separately to The Hubs calzones.  Then just pour it over the top of calzone when it comes out of the oven and enjoy!
It takes maybe 15-20 minutes to construct your calzones, so it's a fairly quick and easy meal. I also think it's a good one for kids to participate in making. As my girls get older I'll let them build their own before we bake them. To keep them identifiable as they go in the oven, add something special to the top of each person's. My Dad always had a jalapeno pepper sitting on the top of his. You could also mark the dough with their initial or other shape. Have fun experimenting with your own creations!