This is the second round of 2nd birthday outfits! I managed to complete these in just over a week.
Manny ended up with a second layer of white on his hat to hide his head!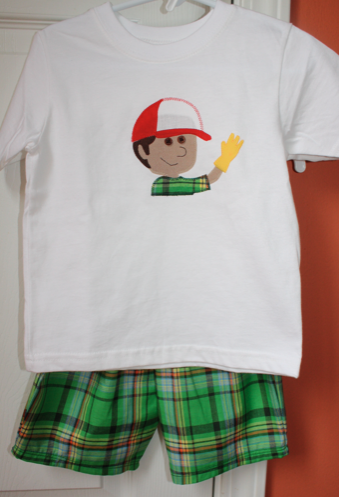 Much better!
And the precious birthday boy!
We drew his name for the birthday exchange this year, so since I knew he was a Handy Manny fan, I made him a shirt with Pat and Felipe on it. According to his Mama, it was a big hit!! This is one of my favorite shirts I've ever made! I love them!
This monkey matches the party decorations!
Sid was BY FAR the most challenging shirt I've done yet. He's 3D so finding a picture to convert was hard because he's never seen in 2D. Then his hair was a huge challenge, but I'm pretty happy with the way it came out! It does look like Sid the Science Kid, right?
I adore the plaid shorts with this Elmo!
I think it's great Snoopy is making a comeback! This guy is pretty easy because he doesn't have a lot of detail to him.
And this birthday boy's Mom wanted his shirt jersey style (so this is the back of Snoopy). I'm crazy about this idea and I'm thinking about doing the same thing for Sofie!
This isn't a birthday outfit, but I made it and mailed it with the same group.
And unfortunately I don't have any pictures of this precious outfit from home. I was in a hurry to mail it and never got anything spectacular. That Elmo was one popular dude this year!
I'm almost finished with birthday outfits!