A friend came to me a few months ago and asked me to make her kids Mickey and Minnie costumes for Halloween. Conveniently, her son is Sofie's age and her daughter was born the month before Chloe. So my honeys got to model these adorable (if I do say so myself!) costumes.
She wanted dressy "tuxedo" Mickey, so I appliqued a vest on a black shirt to give the illusion of tuxedo top. My favorite is the bow tie!
My Mickey Mouse wears pink shoes!
I made Minnie her classic gold shoes, though since they were for an active nearly-8-month-old baby, they're regular bootie style with non-slick soles. No heels for this little lady!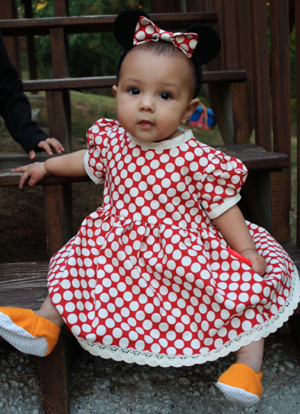 I just love the way they look together!
I know I'm their Mom, so I'm biased, but these are the most adorable little faces!
I haven't started my own kids costumes yet, but I still have a week! Sofie's so excited for hers to get done, though with as sweet as they look in these, Mickey and Minnie sound like good options to me!